Why we are such horny bastards!

Let's Get Horny!
Most folks have no idea the potential of a quality single driver. Just because they have listened to some budget drivers (which are heavily compromised) in some dingy cabinets, they quickly base their opinion on how the single driver sounds. Very quickly, they label it — "the single driver sound", associating with "not much bass, not much highs, only midrange…" blah blah blah…

To a certain extent, that's true. You see, to build a single driver speaker properly, is no easy task. As you have already thrown away the fussy crossoverr, you must now pay more attention to the enclosure. Out with the electrical and In with the mechanical equalization. Never for once should you take the easy way out with the enclosure. Unfortunately this is the problem with most Diyers. For various reasons, ranging from the absurd "no money to build quality enclosure" to the most common "do not know how to build", most Diyers just take the short cut and build the easiest box. Believe me, if your speaker driver is some vintage specialty like the Coral Beta, this is SACRILEGIOUS!

If you aren't serious with the enclosure, then my advice is DON'T BUILD IT. You see, for sure there isn't such a wide bandwidth driver that could do everything right, so the poor driver definitely needs your help to help her sing. Usually it is the bass region which is most difficult. This is why you see many drivers in the market that are either bass, mid-bass, or mid-highs. Because it's easier to make such a driver rather than a single fullrange driver.

So when you decide to go for single drivers, then you need to be serious with the enclosure. If you don't want to be serious with your fullrange speaker driver… boy, you don't deserve her!!! *Hint, Hint* *Pass them to me!*

And my recommendation is very simple. It's all horns, horns and horns.

Forget about bass reflex, sealed box, transmission line, TQWT, Voight pipe, open baffles, your closet, your car booth (yankees call it trunk)…

Get Horny!
Hedlund horn, back loaded horn and spiral horn. I have tried these and heartily recommend you try them as well. Believe me, everyone needs a license to be horny from time to time! Of course, there is the front horn as well but due to size considerations (front horns need to be HUGE to do bass), they are usually utilized above a certain frequency, say 150Hz rather than go all the way fullrange. To go all the way down to say 50Hz, you need to be either a hermit, a bachelor or have the most understanding spouse in the world. (Teach me, teach me how to convince my wife!)

For the rest of us conventional folks, go horny!

Whole Lotta Cabs!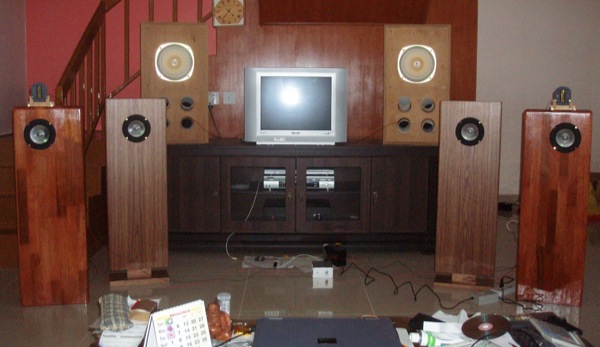 2 Jordan cabinets were built here and compared. Okay you see 3 pairs here but please ignore the Coral Flat 8 enclosure. The inner, nicely veneered, Jordan pair is the VTl Transmission Line recommended by Jordan. The outer pair is a pair of back loaded, side vented horn, stained and lacquered. Err, please ignore the super tweeter…

Closer view of the pair. As you can see the side vented horn is slightly bigger in size.

Aha, see the vent? Both vents must be facing OUTSIDE. I tried them with the vents facing inside and the bass just sounds weird. A bit like me, after too much beans…

Okay, we listened to both enclosures in 2 different systems. Which pair do you think sounds better? Here's a hint.

I'm horny. Horny, horny, horny!

Yeah, without a doubt at all, all 3 of us unanimously prefered the side vent horn. Actually both cabinets are okay midrange upwards but as you come to the lower midrange and below, then there is a clear distinction.

The side vent horn is cleaner, clearer, more detailed and faster.
The transmission line's bass, in comparison, sounds distorted, muddy and blurred.

Well upon closer listening you'll realize that once the bass lines get muddy, the "blurriness" extends to the mids as well. Now things start to get really messy now. This is why all things considered, I'd rather have a clean 70Hz than a muddy 40Hz.

Now please note that I'm not trying to put down the Jordan transmission line design. By itself, she's a nice enclosure but when you put her beside the back loaded horn, then the shortcomings become apparent.

The point of all this is that, with your fullrange single driver, you got to take the trouble, do the right enclosure to realize her potential. No easy way out please!

Let's get horny!