DIY Paradise

is proud to present you
Mundorf Supreme Silver/Oil Coupling Capacitors


When I first put in this cap into my Etude preamp, replacing the Auricaps, I didn't hear much difference. No big deal, I told myself. Boy! Was I wrong BIG TIME! We all know about the effects of running in but this guy crashed me down to the floor! Hours later, the sonics just kept getting better and better! In the end, it simply trounced the Auricaps. It has better highs extension, a more livid mids but softer bass. I had a nasty bass boom in my system and it went away with the Mundorf, but not at the expense of rolling off the low end. Could this be the wonderful damping effects of oil caps?

No, you don't get the tube with every purchase of Mundorf caps! Ei Elite Gold Pin 12AU7 beside it for size comparison…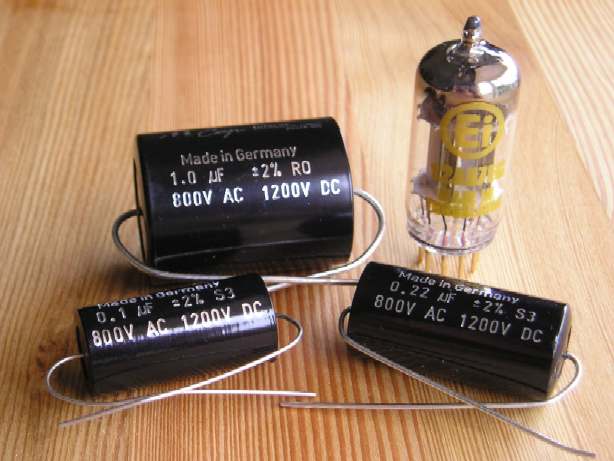 Anyway, these Mundorfs are not your ordinary cap! They are built like Black Gates Super-E caps, with 2 capacitor windings interleaved so that their inductances effectively cancel each other out. In other words, it takes 2 pieces of 2uF windings to make a 1uF cap! Never mind, you can read it all here. Just click on the "M-Cap Supreme Silver/Oil" link on the left.

Mundorf Supreme Silver/Oil Capacitors.

| | | |
| --- | --- | --- |
| 0.1uF | 800VAC/1200VDC | RM85 |
| 0.22uF | 800VAC/1200VDC | RM93 |
| 0.47uF | 800VAC/1200VDC | RM100 |
Mundorf Supreme Polypropylene caps.

| | | |
| --- | --- | --- |
| 1.0uF | 425VAC/800VDC | RM64 |
| 2.2uF | 425VAC/800VDC | RM80 |
| 3.3uF | 425VAC/800VDC | RM95 |
| 4.7uF | 425VAC/800VDC | RM110 |
| 6.8uF | 425VAC/800VDC | RM125 |
Introducing Mundorf's new cap meant for tube amps. TubeCap! Made from Polypropylene film, features are lower ESR and lower residual inductivity, no drying out (unlike your expensive electrolytics), longer service life blah blah blah… I already tried the lower range metallized polypropylene caps and I was already Ooo Laa Laa!


46mm H x 57mm Diameter

ESR of 7mOhm @10kHz ESL 17nH

RM100
There you go! Enjoy!