With Monica and Charlize in full swing, i'm sure you are wondering where's the volume control? Well, we had the short-lived Maggie – our autoformer based volume control – but we had to stop selling her as we found something better.
And we have been working hard to put her into production but encountered many problems along the way. Along the way, we have folks, lots of i'll emphasize here, asking when will we ever see the light of the day on our new volume control. Even more and more folks are asking on the forum.
So it's only fair I'll spill the beans here.
We found the Light Dependent Resistor (LDR) solution to be much much better than ALL passive preamps we could lay our hands on. This includes transformer volume control, autoformer volume control, shunt/series resistive stepped attenuators, marque volume pots like Black Beauty…
And the list of TVCs include those amorphous types, nickels, C-core blah blah blah. In short, the LDR triumps over all.
But building it isn't easy. LDRs aren't manufactured to tight specs (despite what the manufacturer tells you). Also, some exhibit drift over a period of time. All in all, it's easy to build, but difficult to get it balanced between channels. Otherwise you'll most likely get channel imbalance.
Our production unit is so close, yet so far to fruition. Plagued by the said channel imbalance problem! We are still working on this. In the meantime, made progress on other areas. Thought i'll share with you here.
Err, you could build your own ldr volume control. It isn't that difficult at all.
Make your own LDR volume control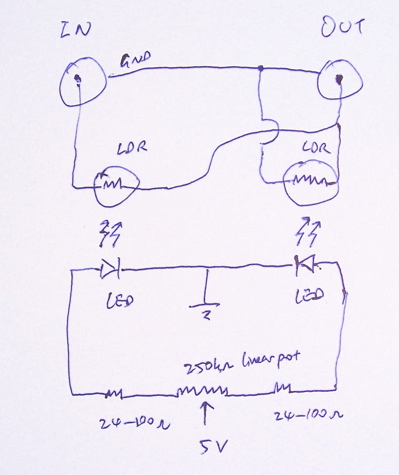 That's how easy the schematic is! The 24-100 ohm (1/4W will do) is meant to limit the current flowing into the LED. The 250kohm linear pot controls the current flowing into each side. You, of course, have to align the LDR/LED nicely…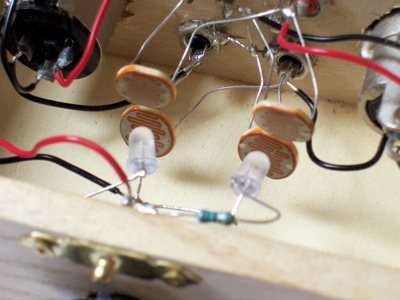 In fact, a trip down to an electronic parts store like RadioShack and you have everything you need. Any 5V supply will do. I use a switching supply which is a bit noisy but doesn't affect the operation here as the power supply circuitry is isolated from the LDR side.
An integrated chip solution
Also, I have worked on another volume control application. This is using Texas Instrument's PGA2311 – a… volume control chip.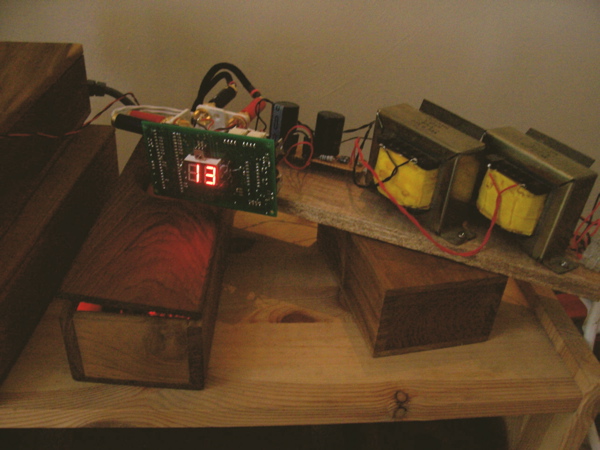 The 2 hefty trans is for the +5/-5V supplies. Shown here is the underside of the PCB where the LED display shows at which volume setting you are on. Also, the IR receiver sits just above the LED display. Oh yes! This means it has remote control features as well.
All in all, this TI solution works pretty good. Sound wise already kicks the ass of many volume controls out there. Even BETTER some TVCs.
Hey hey hey, wait a minute. Such simple solutions but beat the living daylights out of those expensive TVCs? No, I'm not on drugs. I believe the key reason why these volume controls sound better is not so much on its design but more on its absence of the physical switch. No switch, thus no contact problems. No contact problems, no degradation of signals and thus no degradation of sonics.
Comparing to the rest of the volume control applications, both applications above reign in the region of dynamics and especially dynamics. Ever hear folks complain that passive pres sound wonderful but lacking in dynamics? Well siree, here's loadsa dynamics for you!
Please be patient. We are still working on our LDR solution. It has remote control and LED display as well. We just need to fix the channel mismatch problem.
Or, you could just rig up one yourself. Minus remote features of course.
Update on 2nd Dec '08.
I forgot to link to the excellent (and very long) thread on diyaudio about the "Lightspeed Attenuator".
After more hours of running, I'm totally surprised by PGA2311. Sounds VERY GOOD now!