Boy oh boy, my system has undergone lots of changes over the years but most have been the source.
My first source was a heavily modified Marantz CD63. this seems like aeons ago. Then the foray to DACs began, first with TDA1543, then TDA1545. you could say that the seed of Monica was being sown around this time.
I later changed the transport to Philip's CD-Pro2. Wow! Huge jump in sonics. Puts down so many other transports. However, for some reasons which I couldn't comprehend, my CD-Pro2 module died on me. 2 pieces of CD-Pro2 later, I decided I had enough.
Then the switch to PC audio and hence started playing with a Squeezebox media player. Sonics wise the CD-Pro2 still makes a better transport but the convenience of playing off pc more than makes up for loss in sonics. And yeah, I heavily modified my Squeezebox unit too.
Well everything's good for now but then… the revelation of the QLS Hifi's QA550 SD card player! Wow! Immediately you hear the gulf in the sonic quality between the Squeezebox and the QA550. Fed with a Kwak Clock, the sonic improvement is even greater.
So if things are so good now, why fret? Unfortunately the user interface of the QA550 is akin that of a turntable, which is almost zilch. After being spoiled by the user interface on the Squeezebox (including the touch screen Squeezebox Touch), the QA550 is a step back in time…
So the journey for a better source starts again. Damn it.
I have heard lots of good things about the m2tech Hiface but I'm not interested in SPDIF as the I2S interface proves superior (to think that so much time/money/effort has been wasted!).
So John Kenny's modified I2S Hiface seems like the perfect ticket! (Unfortunately John isn't selling the pcb module anymore).
Many many weeks later, finally got it built.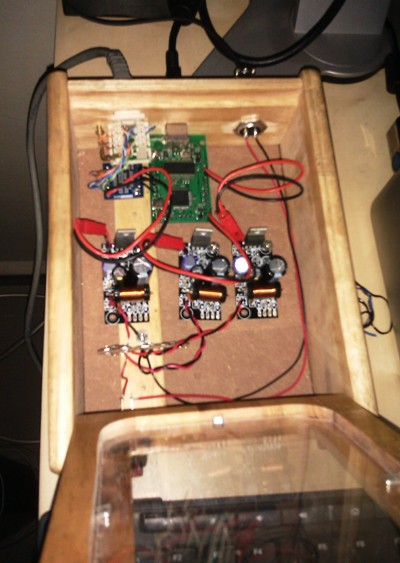 Boy, that one sentence didn't show you how much work I did.
This is what I did:
As I2S consists of 5 lines of signal, you have to decide on a proper interface. there is no standard interface here so i settled for the RF45 network port which is used by many companies (m2tech, North Star and Zenden etc) too for I2S duties.
So got to build an I2S Monica that accepts I2S input via RJ45 interface.
While doing so, I might as well try this excellent looking "Weipu" connectors for analog signal duties. So this I2S Monica accepts I2S via RJ45 then outputs analog signal via Weipu connectors.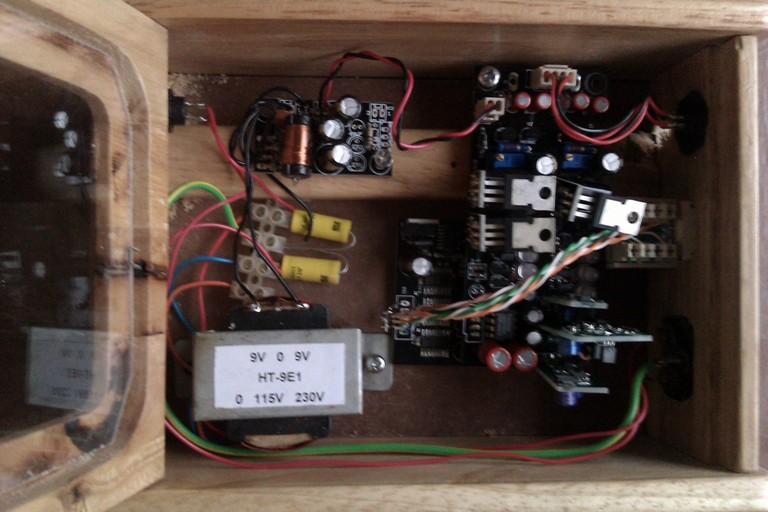 A Beyonce was later built using Weipu connectors. And to have more fun, instead of the Microchip controller I used before, I now put in an Arduino controller. The 8 digit LED display is really cool too.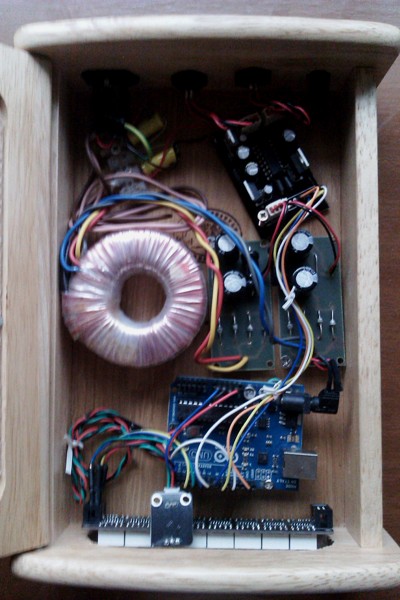 Hey, since we are already at this stage, I built a new Charlize but using Weipu connectors.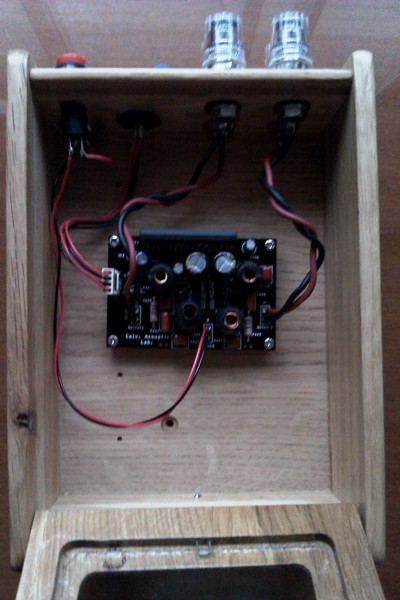 Lastly i had to haul up my old Mac Mini to audio duties and transfer all the music files to a new hard disk.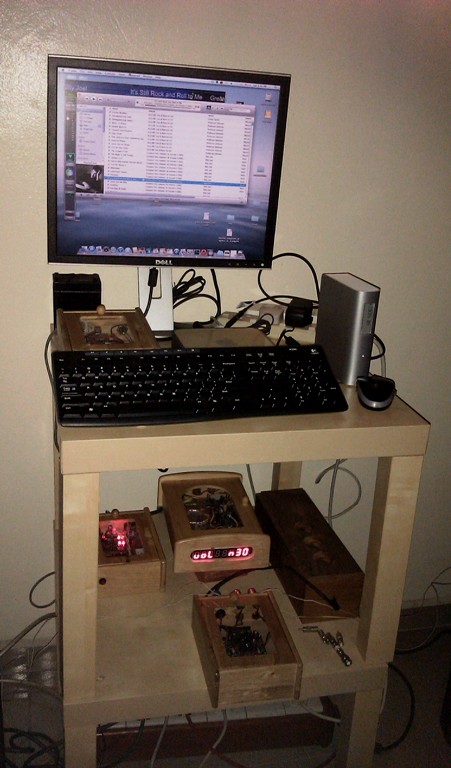 So is it any wonder I'm so short of time?
Do notice I "standardized" my chassis. These are actually key holders made from recycled rubber wood. [trying to be green …

]
Oh well, finally got everything built and… the sound makes it all worthwhile!
Wait! I'm not done yet.
I also installed the very cool Pure Music Player. Oh my! What a nice software! It could upsample (which I can't be bothered with) or play native sample rate of your audio files up to 384kHz sampling rate. And the hiface supports all this. If you have to ask, well, higher sampled material sounds better!
Higher sampled music does the highs so much better. At first I wasn't sure of all the highs but then as you listened, damn in, I've been missing so much all this while! Scoped waveforms back this up. [Of course vinyl folks will tell you nothing beats infinite sampling rate. gotta give this to you guy!]
So after all this work, I'll say everything is worthwhile!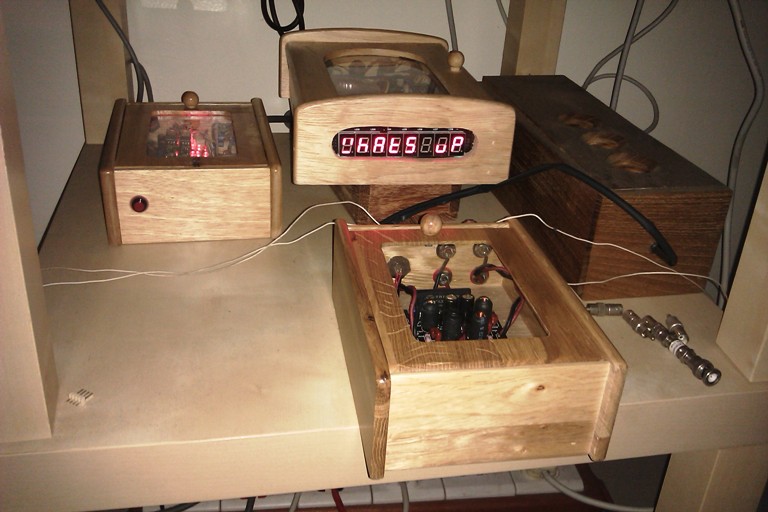 The highs… could give you a high! Have never heard so much highs coming out of the system. This took a while to get used to but now with the silky highs, boy, everything sounds so much better now.
So am I done here? Again, not yet!
My I2S hiface is a Mk2. Apparently John Kenny has just released Mk3, so there's more mods to be done. And more sonic blasts to be had!
One thing for sure, this won't be the last time I rebuild my system. That's the fun of DIY!